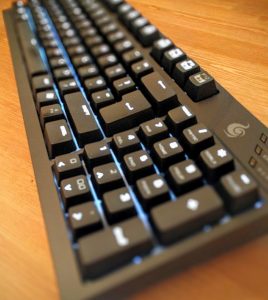 After years of indecision and general procrastination, I have finally given in. My peers, indeed sectors of my entire industry, have ground me down. Eventually I would bough to the pressure and join them. It was inevitable.
No, I'm not talking caffeine addiction or buying a MacBook. In case the picture heading this post didn't give it a way, I'm talking about mechanical keyboards.
I did my research before taking the plunge. Yet the incredible range really didn't help my indecision. Here are some factors informing my search:
not too "gamey" – plain will do
under £100
not too loud – brown Cherry swtiches seem my cup of tea
has a numpad – so useful for developers
backlit – just seemed nice
I settled for the Cool Master Storm QuickFire TK. After seeing plenty of positive reviews, I took the plunge. My review in one sentence: yeah, it's a keyboard and it's good!
Precisely that's it; it's a keyboard that just works without annoying little niggles. I would recommend it for developers.
Somehow, you feel important when you type something. So great is this sensation that I feel I should credit everything I write as if co-authored with the keyboard.